Ok ladies and gentlemen...

(Don't be embarrased, I know that there are a couple of guys out there who look at this here blog every now and then.)

It's back for a repeat performance.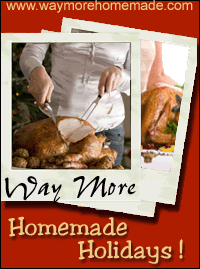 Only this time we're going to focus on baking.
Christmas is a time that many of us tend to bake a little more than other times of the year when we may not normally bake at all.
So I thought it would be nice to share with each other our favorite recipes to bake at Christmas-time. Or if you're me... any time at all.
Because the baked goods and I have a special relationship.
I LOVE them.
And they love my hips.
So next Friday will be our time to do just that. And, to give you a little teaser, I am planning to share my newly acquired Gingerbread Loaf recipe which has been highly requested (aka 2 people have asked for it).
The button will reappear over in the side bar so that you can grab the code again if you want to spread the word.
Hope to see you all back here next Friday.
And hopefully we won't have the Mr. Linky issues we had last time.